License Plate Recognition Software supporting any camera
The highly advanced and mature Vaxtor ALPR engine in available on PCs running Windows or Linux and can be connected to multiple cameras using standard protocols such as ONVIF / RTSP or GigE. The ALPR engine recognizes license plates in real time on fast-moving traffic across several lanes simultaneously.
Vaxtor's engine has been specifically designed to utilise existing CCTV or machine vision cameras deployed in the real-world enabling any installer to provide an ALPR system with ease. Supporting nearly 200 countries and recognising Latin, Arabic and Thai character sets, the Vaxtor engine performs at the very highest level of accuracy whilst minimising system hardware requirements.
The engine supports multiple reporting options simultaneously and can be upgraded to perform high accuracy MMC (Make, Model and Colour identification) and VClass (Vehicle type classification) in real time.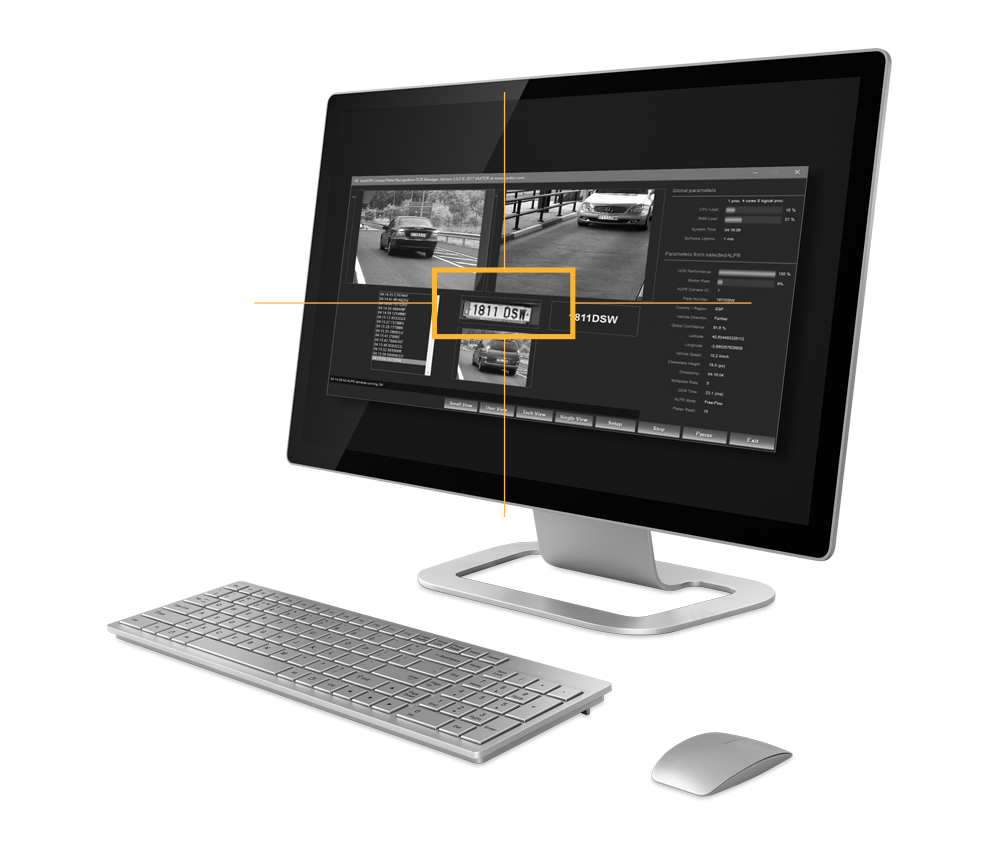 Features & Benefits
High Accuracy:

Recognition rate above 99.6% in independent trials

High Speed Operation:

Up to 250kph

Wide or Multi-Lane:

Each connected camera can monitor traffic in single, wide or dual lanes

Complex Scenario Support:

Directional filtering, Multiple regions of interest and direct I/O support enable filtering and actions using polygons with inclusions or exclusions and direction.

Plugins:

Expandable, modular options allow the system to grow with you and your customer including ADR (dangerous goods), iSpeed, MMC (Make, Model & Colour) and VClass (types of vehicles).
Results in real time
Camera includes:
Supports standard video protocols eg RTSP
Predefined protocols for popular CCTV cameras
Data reported includes:
License plate, date & time, etc.
Country, State, Type of plate
Direction of travel, Region of Interest ID, etc.
Full and Sub-image of the plate (plate patch)
Position of the plate within the original image
Reporting options:
Helix/Vaxtor protocol
Milestone / Genetec Analytics Events
VAPIX / ONVIF protocol
XML or JSON object through HTTP/HTTPS
UTMC and many others…
Vehicle based, multi-camera high speed processing
Providing the capability to search, audit and monitor all vehicles in a large area at high speed is important not just for Police but also for security teams and parking enforcement.
Vaxtor's ALPR capability is able to manage all scenarios from static enforcement cameras to high speed vehicle platforms. Capturing additional GPS and other meta-data and sychronising over cellular ensures on-board watchlists are current and available during communication outages.
Global leading software enabling
Up to
0
cameras on a single PC